TikTok's yoga scene is strong. So, naturally, we've rounded up NYC's top trending TikTok yoga influencers to invigorate your feed.
The Big Apple is in no shortage of yoga instructors and yoga studios. NYC is one of the hottest locations for yoga, as it turns out. It's also home to a handful of yoga influencers who have racked up quite a following on social media.
All the NYC yoga instructors below are trending on TikTok right now (2022) and we're here for it. Just for you, we've conveniently listed them by their usernames, so why not check all seven of them out right now?
blissedhappiness
Blissedhappiness—real name Karina Blackwood—is not just one of NYC's top trending yoga instructors, but one of NYC's top trending fitness instructors – full stop.
She's earned over 6-million likes on TikTok alone for her engaging workout content: a healthy mixture of yoga exercises, Pilates workouts, diet guides, and ab tips.
Karina posts regularly and replies to her followers' comments just as much. She's a self-proclaimed home workout girl, so you need to give her a follow if you relate. Did we mention that she's also a qualified Pilates instructor?
jasmin_monserrate
Jasmin Monserrate's a NYC personal trainer whose workouts combine yoga and weightlifting. If that doesn't give it away, she's impressively strong, mobile, and flexible, so get her content on your feed if you're looking for some next-level yoga motivation that won't disappoint.
Jasmin's content constantly trends under all NYC yoga-related hashtags, gaining thousands of views per video. For tips on handstands, flexibility, and booty-building, Jasmin's your girl. She's close to 100k followers, so tick off your daily good deed and help her out!
thickthighyoga
Saisha a.k.a. ThickThighYoga is one of our personal favorites, it has to be said. A certified yoga teacher and online wellness coach, Saisha's absolutely killing it on TikTok with her body-positive content that proves yoga isn't just for the slim and lean.
Heck, she can even hold a crow pose – and that's not the only arm-balancing pose she can pull off.
Saisha has over 1.5-million likes and close to a quarter of a million followers, as a result. She offers private and group yoga classes in the heart of NYC but, even if you're not local, you need to follow her socials.
nikkibaksh
Nikki Baksh is Anne Hathaway's personal yoga teacher, so you already know she's good.
She's the famous creator behind the popular online yoga programs, The Art of Yoga and The Movement, but she still makes time for TikTok – where she posts some of the best yoga—and mindfulness—tips you'll find online.
If you like your yoga spiritual, mindful, and aesthetic, Nikki is a forever-trending NYC yoga instructor that you need to have on your radar. Instant follow!
shakti_sita_
Shakti Sita is a Kundalini yoga and meditation expert who teaches private classes in NYC. Her TikTok videos, which center around yoga, positive affirmations, mindfulness tips, and more, each gain thousands of views – and for good reason.
She's all about positivity, mental clarity, and food for the soul, so you should definitely consider attending one of her upcoming yoga events in NYC.
Some of her TikTok videos rack up tens of thousands of views, so, need we say it? This girl trends.
anisabenitez
Anisa Benitez, who's based in Brooklyn, is more than just a yoga influencer. She's an actor, model, and self-improvement advocate, posting a colorful mixture of mindfulness hacks, mental health tips, and yoga exercises.
She has over 80k followers on and almost 1-million likes on TikTok, and we guarantee her videos will leave you encouraged, at ease, and a little wiser.
Anisa's content is super informative—therapeutic, in fact—so make sure you check her social media pages out.
modoyoga
Last but not least, Modo Yoga! We know: not exactly a yoga instructor. But Modo is one of the leading yoga studios in NYC (Meghan Markle's favorite, if you didn't know) and, yes, they've got their own TikTok page.
With over 15k followers and 50k likes, Modo Yoga's TikTok content is top-tier when it comes to short yet informative yoga tips.
Modo Yoga has hundreds of thousands of views across all its TikTok videos, so it's yet another trending TikTok page that you didn't know you needed.
Final Word
There you have it: 2022's top trending NYC yoga instructors on TikTok. All the instructors and influencers on this list each have their own unique yoga tips, classes (online and in person), and content style, so make sure to check them all out.
For motivation, tips, and, well, engaging content that never fails to trend on TikTok, these are your people. So, no matter whether you are hunting for NYC yoga classes or the best NYC yoga instructors to add to your FYP, we hope you found what you're after! Visit all our articles at RateYourBurn.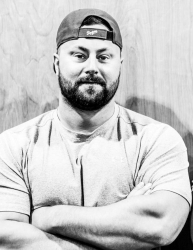 Latest posts by Avi Silverberg
(see all)