Social media junkies are seeking short and engaging content more than ever before, so TikTok has naturally become one of the go-to platforms for fitness influencers looking to get creative and boost their reach.
And if you're on the hunt for NYC's top trending fitness instructors on TikTok right now (2022), you've landed at the right place.
All the TikTok influencers on this list have racked up crazy amounts of followers, views, and likes, so you may have already seen them on your FYP. They're conveniently listed by their usernames, so you can even go ahead and check them out right now!
maikwiedenbach
Maik Wiedenbach is a former Olympian turned NYC personal trainer with over a quarter-million followers on TikTok. The guy's seriously ripped, we have to say, so he definitely practices what he preaches.
Each of his gym vids generates more than 10k views, and he posts pretty much every day.
If you want the raw science behind weightlifting, give this dude a follow.
jasmin_monserrate
Jasmin Monserrate constantly trends under #nycpersonaltrainer. She's all about flexibility and booty building, so she's one to have on your radar if you're into yoga, weightlifting, and girls who can handstand.
Her content is informative and super interesting, as it's fair to say that she can do some pretty impressive stuff.
She's close to 100k, so why not give her a follow?
lcgirard
Laura Girard might have under 100k followers, but her content's racked up close to 4-million likes. Based in NYC (obviously), Laura delivers pro fitness advice sprinkled with viral humor, so you'll want to check her out if you like your content informative and humorously relatable.
She's also super candid and regularly replies to comments.
You'll probably find yourself surfing a few of her TikTok videos, and we won't blame you.
blissedhappiness
Karina Blackwood a.k.a. Blissedhappiness is a self-proclaimed home workout girl posting functional training and yoga content. She's also a qualified NYC Pilates instructor.
If you consider yourself a homebody just like her, then she's your girl for all the TikTok-trending yoga and Pilates-style workouts you need.
Alongside exercises and fitness advice, she also posts dieting tips for achieving rock-solid abs.
justinaercole
Justina Ercole is an NYC fitness coach with over half a million likes on TikTok. Her videos are a mixture of workout tips, food tips, and health advice, with some meme-style content thrown in for good measure.
She gets thousands of views—not including her weekly online classes—so she's definitely a trending NYC instructor you need to know about.
so_manti
Samanta Ortiz, username so_manti, is an NYC trainer with a pretty infectious personality who never stops trending on TikTok for her online fitness coaching videos.
She loves to squat, dance, and make people laugh, her content involving gym tips, home workout tips, and well, lots of dancing.
She's all about body positivity too, and we're here for it.
charleeatkins
Charlee Atkins is the owner of Le Sweat TV (LSTV), an online fitness program with over 250 on-demand workouts. Oh, she's also on Tiktok! The NYC fitness trainer and CSCS posts exercises and workouts, healthy recipes to try, and general lifestyle tips to nearly 40k followers.
She knows her stuff and people definitely like her, since her videos trend a lot, each boasting thousands of views.
akiniko
Akin Akman is one of NYC's most popular fitness trainers. A former SoulCycle trainer, Akin is now an instructor at AARMY (a fitness company he co-founded), where his class snippets always trend on TikTok and Instagram.
He's also a Lululemon global ambassador and a rep for IMG Models! And, yes, if that didn't give it away, he's a good-looking guy.
Akin's classes and videos are super motivational. If you're looking for an NYC instructor who always brings the energy, make sure to check him out!
jenselter
If you don't know Jen Selter, it's fair to say you've been living under a rock. Jen's a famous social media influencer and fitness model with two-million (that's right) followers on TikTok alone, where she uploads workout vids, fitness tips, recipes, and more from her high-rise NY apartment.
With tens of thousands of views on each of her TikTok videos and more than 20-million likes in total, Jen's easily among TikTok's top fitness influencers.
ulissesworld
Ulisses Williams Jr, a.k.a. Ulisses World, is a workout beast. The absolutely jacked bodybuilder and NYC-born-and-bred personal trainer has more than two-million followers and over 26-million likes on Tiktok alone, known for his hardcore bodybuilding content and comedy videos.
Despite his massive online following, Ulisses is a down-to-earth guy who has helped hundreds of thousands of people achieve their dream physiques. He's easily worth following.
Final Word
And that's it: the top trending NYC fitness instructors seen on TikTok in 2022. If you're looking for motivation, short workout videos, nutrition tips, and more, these are the NYC-based personal trainers you need to follow! Visit all our articles at RateYourBurn.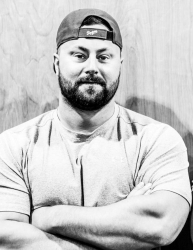 Latest posts by Avi Silverberg
(see all)