Looking to get in serious shape with help from the best? Perhaps you're just curious to see what NYC has to offer?
Either way, here's an up-to-date 2022 list of New York City's hottest male trainers.
In no particular order, the following male trainers know their stuff and are real-life (and good-looking) testaments of what they preach, so you're going to want to have these trainers on your radar!
Akin Akman is a former SoulCycle trainer who now coaches at AARMY. And we have to admit it: the guy looks good on screen. But if his live fitness classes aren't enough, you can always catch one of his weekly AARMY sessions in NYC.
Did we mention that he's also a global ambassador for Lululemon and a rep for IMG Models? Enough said.
Find Akin at: https://www.aarmy.com/coaches/77
You only have to see Meech Robinson to understand why the NYC-based Barry's Bootcamp instructor is so popular. Despite having a weakness for pizza, the guy is jacked. He also has a smile that would make most go weak at the knees.
He has a fitness app, Meech FIT, so it's possible to have Meech as your own personal coach in the palm of your hand.
Find Meech at: https://meechfit.com/
If you like your guys ripped and rugged, Noah Neiman is a PT at Rumble Boxing NYC who's worth checking out. He's been on TV for his renown as a fitness personality (Work Out New York), as well as covered by the likes of GQ, Glamour, and ELLE.
He's trained some of the world's top celebrities—including Katie Holmes and Jake Gyllenhaal—so you know he knows his stuff.
Find Noah at: https://www.instagram.com/noahdneiman/
Alex Folacci is an award-winning PT who calls himself "The Gentleman's Trainer". He offers expert coaching for men over 35 in NYC, so here's the man you need if you're in your 40s and looking to get in the best shape of your life.
His other credentials include being an international medalist, two-time decathlon National Champion of France, and, of course, being one of the hottest male trainers in NYC.
Find Alex at: https://www.alexfolacci.com
SoulCycle trainer and Surf Yoga Beer founder Mantas Zvinas is an NYC trainer worth having on your radar. He's got the jawline, six pack, and blonde locks that most would die for, along with an infectious personality that's hard not to like – simply because he loves what he does.
He teaches multiple SoulCycle classes a day, six times a week, so you're in luck if you want to catch Mantas in NYC.
Find Mantas at: https://www.instagram.com/mantaszvinas/
Giacomo Barbieri is the co-founder of New York City Personal Training – one of NY's most elite PT companies. He's a full-on Italian stallion (we went there), having come from Italy armed with over eight years of experience in the fitness industry.
If you're looking for one-on-one training in NYC, you won't go wrong with NYC Personal Training. You might even be lucky enough to have Giacomo train you personally.
Find Giacomo at: https://newyorkpersonaltraining.com/index.php/about/
You might know Courtney Paul from the Bravo docu-series Work Out New York. He's trained Olympic gold medalists, models, and actors – and has even dipped his toes in acting himself. The man looks like an all-out gladiator, it has to be said, with the handsome good looks to boot.
These days, Courtney remains a nationally recognized group instructor and personal trainer with classes to catch in and around NYC.
Find Courtney at https://www.instagram.com/mrcourtneypaul/
Here's another hot male trainer from Work Out New York. After working at some of NY's top fitness clubs, Joe Lazo now runs LazoFitness – a personal training business with over 12k followers on Instagram.
Joe Lazo's got the blonde surfer look on point. And, hey, he also looks like Thor if that's what you're looking for from a personal trainer.
Find Joe at: https://www.instagram.com/lazofitness/
Ngo Okafor is the owner of Iconoclast Fitness in NYC. He's not just ripped and easy on the eyes, but a two-time Golden Gloves Boxing Champion with features by Good Morning America, New York Post, Men's Health, and more.
Ngo offers in-person and virtual personal training open to everyone. And his online success stories say it all.
Find Ngo at: https://www.ngookafor.com/
Maik Wiedenbach's got the physique of an Olympian – because he is one. The tall, dark, and handsome personal trainer offers one-on-one coaching in the heart of NYC on East 57th St, voted 2020's Best Personal Trainer by Best of New York City.
Maik is an NYE professor so he doesn't just offer his good looks, but the raw science to help anyone get seriously shredded.
Find Maik at: https://www.maikwiedenbach.com/
Final Word
NYC has no shortage of good-looking male personal trainers but the above are the best of the bunch – especially if you're looking for muscles, brains, and good looks all in one. Whether you're looking for personal training or simply a treat for your eyes, make sure to check them out! Visit all our articles at RateYourBurn.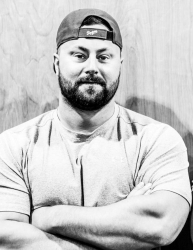 Latest posts by Avi Silverberg
(see all)