Looking to get abs in time for your next vacation? These are the top NYC fitness classes that are going to help make that a reality.
For cut, bulletproof abs, you'll need to bring your body fat percentage down and work out those dormant abdominals.
A caloric deficit is also a major factor, which will help your abs pop and look more 3D.
As a result, you're hunting for the best classes offering HIIT, fat-burning cardio, and abdominal strength training – workouts that are going to burn massive calories and fire up your core.
You're in luck, as we've rounded up the best NYC fitness classes for core and abs for you. Check them out below and get enrolled to be one step closer to owning rock-solid abs!
FORM50
Form50 is located in Astoria, boasting probably the best fitness experience in western NYC.
Taking functional fitness in a new direction, Form50 delivers a full-body LIIT (low impact interval training) class workout for all-over sculpting and core strength.
It might look like Pilates, but it's not. It's Lagree-focused and more challenging than it looks.
There are classes for all levels, utilizing innovative MS3 Megaformers in a soft-glowing purple studio that just adds to the experience.
This one's worth trying.
Trooper Fitness
If the name doesn't give it away, Trooper Fitness on East 54th St is hardcore.
For fat-burning, muscle-building HIIT, these classes are the real deal, combining strength training and resisted cardio for a killer workout that's going to tone your midriff up fast.
It might sound advanced, but it's also open to beginners. You can even enjoy three free studio classes if it's your first time.
ModelFIT
Based in Bowery, modelFIT focuses on low-impact dynamic exercises perfect for those who like it slow yet challenging.
ModelFIT is as much a meditation as it is a workout, incorporating grace and strength to challenge mobility, flexibility, and, as a result, your core muscles.
If you like the idea of mixing yoga and Pilates with basic cardio and weight training, modelFIT NYC might just be the class for you.
P.volve
P.volve is located in West Broadway, offering classes for strength, sculpting, cardio, stretching, and rehabilitation.
It's low-impact yet dynamic and focused, with functional bodyweight exercises that are going to set your core on fire.
There are discounted classes for newcomers, with all welcome to join.
Trainers are more than friendly and the minimalistic, well-lit studio is just as inviting.
Barry's
For classes dedicated to high intensity interval training, Barry's Bootcamp is among the best. It just keeps it simple, with workouts centered around running and weights for fast and effective weight loss.
With Barry's, your abs will be showing before you know it.
Choose from multiple studios in NYC alone, including Barry's TriBeCa, Barry's Noho, Barry's Park Avenue South, and Barry's Chelsea. Some might call it a cult, but there's no doubt that the classes are effective.
Flex Studios
Like Pilates but want to take it to the next level? Flex Studios on West 14th St could be what you're looking for.
The music-driven group classes are all about full-body mobility and strength training, designed to increase stamina, flexibility, and balance.
There are custom classes to choose from, including FlexFormer and FlexIR, all of which are going to leave you with a sore core the day after.
If you're on the fence, you can grab your first class at a discounted price.
30/60/90
New York Magazine called 30/60/90 the Best Fat-Burning Class for a good reason. Located in Athleta, 30/60/90 serves up rhythmic routines set to modern beats, incorporating elements of HIIT, Pilates, and strength training.
There's a dedicated Express Core class for dedicated ab training, with an arsenal of instructors who know their stuff.
If you like to move to music, 30/60/90 offers high-energy classes that keep you sweating from start to finish.
Rumble
If you've always wanted to know a thing or two about self-defense, kill two birds with one stone at Rumble Boxing on West 23rd St. Rumble fuses boxing techniques with energized HIIT, both requiring serious core activation to help you achieve abs ASAP.
Rumble workouts are explosive, plyometric, and challenging, needless to say, yet more than open to beginners. Hey, if you also need to let out some frustration, this is the NYC fitness class for you.
Conclusion
Achieving abs isn't as hard as it's made out to be: you just have to move more and eat less.
And if you have a low body fat percentage, you're already in a good position for achieving ripped abs in a matter of months.
Needless to say, some people just work out better with others.
And if that's you, our list of the best NYC fitness classes for core and abs are exactly what you need to achieve abs in no time. Choose your class today!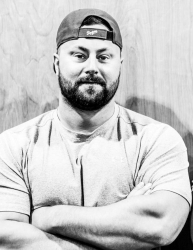 Latest posts by Avi Silverberg
(see all)