Exhale: Core Fusion Barre might have been released in 2013 but it's still one of the best follow-along workout videos for beginners looking to try barre.
Created by NY-based CoreBarreFit fitness gurus Fred DeVito and Elisabeth Halfpapp, Core Fusion Barre offers seven 10-minute full-body workouts at just over an hour in runtime, focused on the barre basics.
You might be considering trying Core Fusion Barre or barre in general. Either way, these are five reasons why you shouldn't be afraid to give it a try!
1. Core Fusion Barre Is Aimed At Beginners
Core Fusion Barre Basics for Beginners is aimed at beginners, so expect to learn all the basics of barre in the comfort of your own home if you're a newbie who can't attend barre class for whatever reason.
All you have to do is play the DVD/stream it and find something you can use as a ballet barre, which can be a tall stool, chair, or table.
Barre bars aren't too expensive either if you're looking to use the proper equipment or enjoy an authentic barre experience at home.
At only 10 minutes per workout, it's also perfect for you if you usually can't find the time to exercise!
You can easily put it on before work, before lunch/dinner, or right before bedtime as a means to work out and wind down at the same time.
2. Barre Is More Popular Than You Think
Barre might be new to you but it's actually super popular. Incorporating ballet movements, including elements of yoga and Pilates, barre is a full-body workout with little to no equipment that is accessible for almost all ages and fitness levels.
Hosts of barre classes are available to stream online, some of which are free. There are also hundreds of barre studios across the US offering multiple classes per week.
Millions of people now practice barre worldwide and if you're looking for something that sets itself apart from traditional cardio, weightlifting, or any physical sport, barre is worth trying.
3. Barre Is Challenging
It might not look like much, but barre is more challenging than most people think.
With a big focus on lower-body movements that require strong core stability, barre can quickly get intense – so you can rest assured that as you progress, so will the difficulty of the workouts.
You can throw any assumptions that barre is easy right out of the window. Depending on how fit and flexible you are, you might find it easy at the start, or you might not.
Either way, one thing you can bet on is that you're going to love the challenges that barre has to offer. A love for barre might even lead to you doing ballet, advanced yoga, or gymnastics.
4. Barre Improves Everyday Functional Movements
Barre will improve your muscle strength, flexibility, mobility, and balance. As a result, you can expect to see a huge improvement in everyday functional movements – whether that's bending down, walking uphill, or balancing on one leg to reach for something.
Expect noticeable improvements to your posture, gait, and general physical and mental health after a few sessions of barre.
Barre won't just make you more graceful and mobile; it will make you feel better about yourself, benefitting your confidence and your ability to do everyday tasks.
There are many ways barre can transfer into other movements and exercises, and that includes working out at the gym.
5. CoreBarreFit Live Streams And Studio Classes
Last but not least, Exhale: Core Fusion Barre is not the only follow-along workout offered by famous fitness duo Fred DeVito and Elisabeth Halfpapp.
The owners of CoreBarreFit host regular livestreams and in-studio classes from beginner to advanced.
So, once you've achieved the barre basics from Core Fusion Barre, be sure you'll be able to take what you've learned to the next level using all their programs.
In fact, if you're based in New York (Bridgehampton), you might just want to attend one of the CoreBarreFit in-person studio classes.
Sure, attending any barre class for the first time can be nerve-wracking, but Core Fusion Barre might be the confidence-booster you need to get out of your comfort zone and meet fellow barre lovers!
Conclusion
CoreBarreFit's Exhale: Core Fusion Barre Basics for Beginners is no doubt one of the best follow-along workout videos for newbies looking to learn the basics of barre, created by guru duo Fred DeVito and Elisabeth Halfpapp.
You might be nervous about attending barre class, unable to find time to exercise, or simply looking to get a feel of barre before committing yourself to it.
In any case, the above five reasons might just be what you need to give Core Fusion Barre, or barre in general, a try! Visit all our articles at RateYourBurn.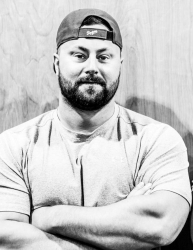 Latest posts by Avi Silverberg
(see all)