It's no secret that eggs are loaded with protein. You're getting at least six grams of protein per egg, which makes them great for topping up protein intake with little preparation.
Eggs are also super versatile, so there's more than a few ways you can eat them without boring your taste buds to death.
Eggs make for great ingredients as much as filling dishes served on their own.
We've listed 10 protein-packed egg recipes to whip up today, all of which you can eat guilt-free to help you hit those macro targets with ease.
1. High-Protein Deviled Eggs
Deviled eggs are underrated.
They're almost forgotten in favor of more traditional ways to serve eggs, but this high-protein deviled eggs recipe is sure to rekindle your love for them – or open your eyes to something you might've been missing your entire life.
Ingredients
5-6 hard-boiled eggs, sliced in half
2 tsp. dijon mustard
¼ cup low-fat Greek yogurt
Salt, pepper, and paprika to garnish
The mustard and Greek yogurt combo is what turns this easy-to-make deviled eggs recipe into a high-protein side or starter.
Simply combine the yolks with the mayo and yogurt, fill the egg whites, then garnish as desired.
2. Cottage Cheese Scrambled Eggs
You can easily increase the protein content of scrambled eggs by mixing in cottage cheese.
The consistency is close to identical, with the bonus of a light cheesy flavor that, even if you don't like cottage cheese on its own, will perk up the taste of scrambled eggs served plain.
Ingredients
4 large eggs
½ cup low-fat cottage cheese
Desired seasoning
Whisk the cottage cheese into the eggs for the best results.
Once ready, you can serve up the finished recipe with whole grain toast, berries, or fresh salad leaves to eat for breakfast, lunch, or as a light evening dinner.
3. Corned Beef Omelet
Who doesn't love omelets? They're quick to whip up, containing two or three eggs for one of the easiest ways to boost your protein for breakfast and brunch.
Still, it's possible to get more protein out of your omelets by adding one simple ingredient: corned beef.
Ingredients
2-3 eggs
¼ cup corned beef
¼ cup diced potatoes (optional)
2 tbsp. grated parmesan cheese (optional)
Salt, pepper, and parsley for garnish
Feel fuller, and for longer, by kickstarting your day with this high-protein omelet recipe.
Corned beef tastes great with omelets, and even better with diced potatoes if you don't mind adding in the extra carbs.
4. High-Protein Banana Chocolate Pancakes
The Rock loves banana chocolate chip pancakes covered in syrup.
His cheat day treat might be high in calories, but that doesn't mean you can't enjoy a low-calorie alternative that, despite tasting like it's cheat day, delivers a high amount of protein that you can eat guilt-free.
Ingredients
2 large eggs
4 tsp. baking powder
2 large bananas
1 scoop whey protein powder (chocolate or banana flavor)
Chocolate protein spread, 1-2 tbsp. cocoa powder, or chocolate chips
Blend the pancake mix as usual while adding mashed banana, flavored whey protein powder or, if needed, cocoa powder.
You can also enjoy your chocolate fix by adding chocolate chips or finishing the pancakes with chocolate-flavored protein spread.
5. Protein Powder Brownies
Who says desserts can't be high in protein?
Protein powder brownies are a great alternative if you suddenly find yourself craving cake, which can be easily prepped and baked to perfection in less than 15 minutes.
Ingredients
1-2 large eggs
1 tbsp. coconut flour
1 tsp. baking powder
1 tbsp. granulated sweetener (optional)
1-2 tbsp. cocoa powder
1 scoop chocolate whey protein powder
Chocolate chips (optional)
What's good about this recipe is that you can make it in the microwave, using a bowl or mug, or in the oven using an oven-safe dish or tray.
Simply combine the ingredients in a bowl and microwave, or bake, until ready.
7. Healthy Homemade McMuffins
Put the fast-food bestseller aside and opt for something that you can make at home – both lower in calories and higher in protein.
Healthy homemade McMuffins are not that difficult to prepare, providing the same mouth-watering flavor but without the guilty aftertaste.
Ingredients
1-2 eggs (fried or poached)
2 whole grains buns/muffins
1-2 thin lean beef patties
Sliced cheddar cheese
Grill the beef patties if you want to reduce the total calorie count, then toast and flour the buns for that authentic look and texture.
If desired, you can even customize your healthy homemade McMuffins by adding avocado slices, peppers, or sliced tomatoes.
Conclusion
If you're getting bored of plain, traditionally served eggs, the above recipes might just be what you're looking for to add some variation to your daily diet, even if you don't yourself the best chef in the world.
As a good, versatile source of protein, there are countless ways eggs can be served up and enjoyed – no matter the occasion or what time of day it is.
Give these recipes a try and see which one becomes your new favorite, because there's sure to be at least one!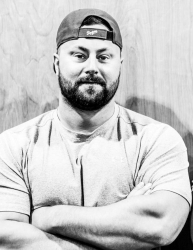 Latest posts by Avi Silverberg
(see all)