If you've switched from pasta to spaghetti squash, we don't blame you. The mild nutty sweetness and chewy texture goes down a treat, which also makes spaghetti squash super versatile for a host of dishes.
Spaghetti squash strands are similar to, well, spaghetti, and the seeds are not too different from pumpkin seeds, perfect when roasted.
What are the nutritionals, you ask? Well, spaghetti squash is low in calories and fat. It's also high in fiber, manganese, vitamin A, and vitamin C.
But while it might not be high in protein, these 10 spaghetti squash recipes are!
For some next-level cooking inspiration, check out these low-calorie, high-protein spaghetti squash recipes and give them a try today.
You can never go wrong with chicken and spaghetti squash, and this sublime recipe is low in carbs and calories yet high in protein.
What we love here is how the chicken is shredded – the perfect way to serve it up with spaghetti squash! It tastes to die for and only requires six simple steps to make it. Definitely not to be skipped!
If you're partial to green pesto, here's the chicken pesto spaghetti squash recipe you didn't know you needed. Well, here it is and you bet it's packed with protein yet low in calories.
Other than spaghetti squash, pesto, and chicken breasts, you'll only need red onion, red pepper, and Boncconcini cheese. That's it and it just takes an hour to make and enjoy.
Spaghetti squash topped with marinara sauce? Sign us up. With 210 calories and almost 10 grams of protein per serving, this must-try recipe hits the spot. It's also surprisingly low in carbs!
The ingredients list is easy to put together, with a total cooking time (including preparation) of just over an hour – another one that's worth spoiling yourself to.
Regular meal prepper? This recipe is right up your alley. And if you love meatballs, even better. It's veggie-loaded and packed with protein, delivering—wait for it—31 grams of protein per serving!
One serving also comes in at just 247 calories, so it's ideal for not going over your macros, but filling enough to keep you satisfied.
If you love casserole, this spaghetti squash recipe is sure to satisfy your cravings. With high-protein chicken breast drizzled in buffalo sauce (Frank's Red Hot recommended), this spaghetti squash casserole will have you coming back for a second helping.
It only takes eight steps to make, so what are you waiting for?!
Chili lovers won't be disappointed with this chili spaghetti squash casserole. Yep – another casserole, and you deserve it! Requiring just an hour of your time to make, this mouth-watering recipe won't disappoint.
It might have 344 calories, but you bet it's worth it when you're simultaneously getting 32 grams of protein per serving. Try it!
Like your spices? Spice things up with this spicy spaghetti squash recipe that's loaded with chicken and, as a result, high in protein yet low in calories. In fact, this dish is ideal for you if Indian cuisine is up there with your favorite foods.
And you might be glad to know that it only takes an hour until it's ready to serve up and enjoy.
This recipe really does taste like a million dollars. It also takes the number one spot on this list for having the most protein, coming in at 37 grams per serving!
It's the perfect taste of American and Italian cuisine, ideal for serving to guests and friends. Don't be intimidated by the long ingredients list; we can vouch that it's 100% worth it.
We don't have to tell you that tuna is loaded with protein, so it's the perfect choice for you if you're vegetarian. And with spaghetti squash, it's a small taste of heaven!
This casserole is ready to place in the oven after 15 minutes of prep time. That's it. And we promise you'll love the end result. It serves four, but that doesn't mean you have to share it.
Calling all cheese lovers! If you never eat pasta without covering it in cheese, this three-cheese chicken spaghetti squash bake recipe is just over 200 calories with 18 grams of protein per serving.
This takes five steps to make, and an additional step (eating it) to fall in love with it. It's also loaded with veggies, so go ahead and enjoy this one 100% guilt-free.
Conclusion
And that's it: our round-up of the 10 best low-calorie, high-protein spaghetti squash recipes for your try right now. Whether you're a spaghetti squash lover or not, we guarantee these recipes won't disappoint.
They're low in calories, sure, but still make sure to save some for later!
If you enjoyed this post, you might enjoy our article on '10 Delicious Amaranth Recipes (Gluten-Free)' or visit all our articles at RateYourBurn.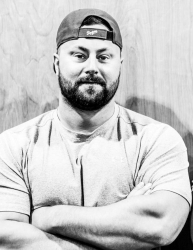 Latest posts by Avi Silverberg
(see all)