For some people, cauliflower might be one of the blander vegetables, but that doesn't mean it can't taste good in desserts.
In fact, the light and subtle taste of cauliflower works well – especially when sweetened by other ingredients that don't take away its high nutritional value.
Cauliflower is low in calories yet loaded with vitamin B, vitamin B6, magnesium, fiber, and protein. It's not as healthy as broccoli, but it can be used to make desserts! Take that, broccoli.
So, whether you're a diehard cauliflower lover or just curious to know if desserts can actually be made from cauliflower, this list of the best 10 cauliflower desserts will surprise you – and not leave you disappointed.
The fact that this cauliflower cheesecake recipe involves cacao, hazelnuts, walnuts, dates, and berries is enough reason to try it – especially if you love cheesecake.
It looks stunning (party-ready) and you can also make it in just eight straightforward steps! A bonus is that this recipe is gluten-free, dairy-free, oil-free, and low in sugar.
If you prefer cake to cheesecake, this lemon cauliflower cake is worth tasting. Cauliflower cakes are catching up with carrot cakes in popularity, and this one's got poppy seeds and avocados to complement the zesty lemon filling.
Of course, there's no baking involved, taking just under half an hour to whip up.
Low-fat chocolate pudding? Yes please! This chocolate pudding is made from cauliflower, so it's low in carbs yet loaded with flavor for the chocoholics out there.
It's pretty simple to make as well, involving a few simple steps that, for the most part, include softening the cauliflower into a smooth puree before adding cocoa, cream, and sweetener.
Prefer rice pudding to chocolate pudding? This cauliflower rice pudding is keto-friendly yet nothing short of tasty. You'd be forgiven for thinking it's actual rice pudding – even though it doesn't contain any rice.
What we love about this recipe is that it includes double cream (1 cup, in fact), despite totaling at just over 200 calories. Magical!
That's right – cauliflower ice cream! But not just cauliflower ice cream; low-carb, vegan, dairy-free cauliflower ice cream. This one's perfect if you have a sweet tooth but want to indulge guilt-free.
Ingredients include coconut milk, vanilla beans, maple syrup, vanilla extract, cashews, and, of course, cauliflower. It doesn't even require an ice cream maker!
You probably didn't know that fudge brownies can be made from cauliflower, but now you do and you should definitely try it. This recipe is loaded with chocolate and fudge, so you won't even realize it has cauliflower in it.
Still, it's way healthier than any regular brownies, serving up to 12 people with the option to make it vegan, dairy-free, gluten-free, or all the above.
Muffins are great, sure. But when made from cauliflower, they're lower in calories and just as tasty – especially with this recipe that involves one game-changing ingredient: raspberries.
All you need is eggs, almond (or tapioca) flour, coconut sugar, and cauliflower. You can add the raspberries to the mixture or use them as your topping – it's totally your call.
Perfect for snacking, these vegan gluten-free biscuits are made from cauliflower with a total of 63 cals per biscuit.
They also only require four ingredients to make! These ingredients are cauliflower, almond flour, chickpea flour, and baking powder.
As a result, they're quick and easy to make, ready in just 45 minutes (10 minutes of prep time only)!
For the protein heads out there, these high-protein cauliflower cookies taste as good as they look, coming in at just 92 calories per serving.
You won't need many ingredients either – just cauliflower, cocoa powder, whole ground flax meal, baking powder, and syrup, plus vegan chocolate chips and hemp seeds for that must-have cookie crunch.
Fan of mousse? It's simple, easy to make, and perfect for satisfying cravings. This cauliflower mousse is no different and can be ready to enjoy in just six simple steps.
You'll need a soufflé dish but, aside from that, all this recipe requires is unsalted butter, all-purpose flour, milk, grated nutmeg, eggs, Parmigiano-Reggiano, and chopped cauliflower.
Conclusion
And there you have it: 10 healthy, yet mouth-watering, desserts made from cauliflower. You might not be sold just yet, but you will be once you try them.
Cauliflower is more versatile than you might think, and these super healthy desserts offer all the nutritional benefits of cauliflower without skimping on flavor.
Whether you try these today or bookmark this page for future reference, make sure to give these cauliflower dessert recipes a go – you won't be disappointed!
If you enjoyed this post, you might enjoy our article on '10 Best Swiss Chard Recipes (As Rated by Top Food Bloggers)' or visit all our articles at RateYourBurn.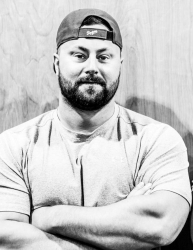 Latest posts by Avi Silverberg
(see all)