Williamsburg is a hip area. Fashionable people love it here, yet it's not all cafes and boutique stores.
In fact, I had a tough time reviewing the best Williamsburg gyms – there are many awesome options, but I narrowed it down to the best five gyms that you need to know about!
The Best Gyms in Williamsburg are:
You can find out the reasons I chose these gyms below, along with the benefits and drawbacks, membership prices, and who should join and who should avoid – all the things worth knowing before you reach for your bank card!
Does Williamsburg Have Good Gyms?
There's a ton of awesome gyms, boutique studios, and fitness centers in Williamsburg.
Most are located on the eastern side of the Brooklyn Queens Expressway (near the waterfront), with a choice that's diverse enough to satisfy most gym users.
How Did I Pick The Best Gyms In Williamsburg?
1. Niche Appeal
Williamsburg is scattered with chic boutiques, artsy cafes, and trendy bars.
In other words: it's Brooklyn's neighborhood for the young and fashionable.
This is also apparent in the neighborhood's gyms, so I chose the best gyms offering a niche appeal, such as unique programs, stylish interiors, and special equipment.
2. Sense Of Inclusion
Signing up for a gym is as much about feeling at home as it is about fitness.
This isn't just due to the design and atmosphere of a gym, but the member community itself.
For that reason, I picked the best gyms in Williamsburg offering a genuine sense of belonging and inclusion!
3. Variety Of Training Styles
To make sure there's something for everyone here (and there really is in Williamsburg), I made sure to find the best local gyms for all training styles and preferences.
Whether you're into CrossFit, strength training, barre, or group fitness classes, find the best of these below.
Gyms In Williamsburg: 5 Best Options
1. Absolute Power – Best Neighborhood Gym
Absolute Power Fitness calls itself an old-school gym and I don't disagree.
That doesn't mean it's all weight plates and dumbbells, however; this gym is for all kinds of training, with a welcoming community atmosphere that can easily make this place feel like a second home!
What Are The Gym Benefits?
No matter whether you're looking to pump iron or jump into some cardio, Absolute Power Gym has everything for any kind of workout.
We're talking treadmills, ellipticals, bikes, Jacob's Ladders, a circuit training floor, and enough free weights, plates, benches, and power racks to go around.
So, if you like your gyms old-school and simple, this one won't disappoint.
It has graffitied walls and a moody vibe, yet supportive staff and members (expect to feel welcomed with no judgment).
Personal training is also available, plus onsite shakes offering a range of ingredients and flavors.
What Do You Need To Know Before Purchasing A Membership?
The choice is simple: pay $59 month-to-month or $49 per month with 12 months' commitment.
These prices exclude tax, however, so take note. There's also a $39 maintenance fee to pay when you join.
Without a membership, dropping in costs $15, which still gives you access to locker rooms and showers.
Are There Any Drawbacks?
You have to pay the maintenance fee upfront. Other than that, though, I've nothing to say.
Who Should Work Out Here?
Fed up with commercial gyms? Absolute Power is one to look at, no matter whether you're about weightlifting or cardio.
Powerlifters and bodybuilders will love it here, but anyone who's not dedicated to working out or isn't into the old-school gym vibe will save money going elsewhere.
2. The Bar Method – Best For Barre & Women
The Bar Method is a franchise with multiple locations in NY. Barre isn't for everyone but it's worth trying if you're bored of "conventional" workouts.
The Bar Method incorporates its own training method for its classes, focused on helping all overcome their physical limitations.
What Are The Gym Benefits?
Classes here will burn calories (up to 500 per class, they state) while building strength, mobility, and flexibility.
Barre is harder than it looks and it's not just for women either! The ballet-inspired exercises you'll do here—which focus on control and short range of motion—are also ideal for injury rehabilitation.
The Bar Method Williamsburg is a bright, clean, and minimalistic studio.
It's also large, so classes are not stuffy or too intimate. What's more, you'll feel a genuine sense of inclusion here – especially if you're a woman.
Expect zero judgment and lots of new friends.
What Do You Need To Know Before Purchasing A Membership?
You can pay for a set number of classes per month or buy classes in packages. 1 class is $34, 5 classes are $150, and 10 classes are $290.
As for monthly recurring memberships, you can have 4 classes per month for $99, 8 classes per month for $159, or unlimited classes for $199.
Don't want to commit? Grab 1 month of unlimited classes for $300. Otherwise, canceling is simple enough: just log in to your account and cancel before the next billing date.
New clients can also enjoy 2 classes for $22 (a good bargain) by signing up on the website.
Are There Any Drawbacks?
None – The Bar Method is a great barre studio for all abilities with upfront prices and a no-hassle cancellation policy.
Who Should Work Out Here?
Barre lovers and anyone interested in trying barre. Pre and post-natal women, plus those rehabilitating from injury, should also consider!
If you don't like follow-along exercises performed repetitively, however, you might not enjoy barre enough for the long term.
3. True North Training – Best CrossFit Gym & CrossFit Community
There are actually several awesome CrossFit gyms in Williamsburg. Despite that, True North Training comes up on top.
Why? TNT boasts an impressive warehouse-style facility on the waterfront, an exciting community built on values, and pricing that trumps the rest.
What Are The Gym Benefits?
For CrossFit, True North Training is the real deal.
The 2000-square-foot facility features pull-up bars, Rogue bars and bumper plates, med balls, free weights, gymnastic rings hanging from all areas of the ceiling, and—as they like to call it—one big-ass fan.
The programs here offer an exciting challenge and you can expect to get shredded – CrossFit newbie or not.
The coaches know their stuff and the member community is like no other, led by values that include hospitality, industriousness, and courage.
On top of all—and what I like the most—is the open gym access, which not all CrossFit gyms offer.
What Do You Need To Know Before Purchasing A Membership?
Here's your price rundown: have 3 classes per week for $250 monthly or 5 classes per week for $280 monthly.
For just the open gym (visit up to 4 times per week), it's $215 monthly.
Totally new to CrossFit? TNT offers a Foundations package for $400, which includes 4 1-on-1 hour sessions, one-week open gym access, and a free InBody scan.
Otherwise, personal training sessions are $150 for 1, $1400 for 10, and $2600 for 20.
Two custom membership packages are also available, offering bundles priced at $750 (3x classes/open gym visits and 1 PT session per week) and $1000 (3x classes/open gym visits and 2 PT sessions per week).
Take note: tax is not included in all the above prices.
Are There Any Drawbacks?
Classes might seem expensive but if you take full advantage of your monthly allowance there's superb value to be found here.
The same can't be said for the open gym membership, however, which is a bit on the steep end.
Who Should Work Out Here?
CrossFitters new and experienced, as well as anyone looking to get shredded doing pull ups, ring muscle ups, Olympic lifts, and HIIT.
If you like energizing communities, this is another reason to join.
If you don't like high intensity, however, or consider yourself injury-prone, consider other options before signing up.
4. Session NYC – Best Group Fitness Classes For Weight Loss
Hunting for the best group fitness classes in Williamsburg? Here's the place.
Session NYC offers fat-burning classes 7 days a week, led by expert coaches who don't discriminate. There's a great community vibe here, plus personal training as a bonus.
What Are The Gym Benefits?
Don't fret if you're a beginner; classes are open to all and include strength, stretch, and conditioning, all based on circuit training.
Session NYC delivers around 10 classes per day, so there's a lot to choose from. The studio itself is modern and well-equipped, with sessions also held in the park!
Expect to make friends and feel supported here. Session has a great community and you'll only have to attend one class to see why.
Workouts involve exercises that use bodyweight, weights, and machines, so it's also a good choice if you like to mix things up.
What Do You Need To Know Before Purchasing A Membership?
Pricing is simple, which I always like to see. Drop in for $35, enjoy 5 classes for $165, or get the most value with 10 classes for $300. Going the distance? Unlock unlimited monthly classes for $230 per month.
The membership and class packs exclude tax, so you know.
Are There Any Drawbacks?
The studio isn't massive. Classes can get busy (crowded), so some might feel overwhelmed.
Who Should Work Out Here?
Group workout addicts, people looking to lose weight, and anyone who thrives in high-energy environments.
If you don't like the idea of a crowded studio now and then, you'll probably want to look elsewhere.
5. Brooklyn Athletic Club – Best Multi-Purpose Gym With Pro Training
BAC earned a place in my review of the "5 Best Gyms in Brooklyn" and it deserves to be here too!
This boutique gym boasts separate three training floors with premium equipment and an "exclusive" feel that dedicated gym-goers will appreciate.
What Are The Gym Benefits?
Across two floors, Brooklyn Athletic Club offers state-of-the-art bumper plates, bars, platforms, and racks.
So for weightlifting addicts, it doesn't get much better. This is a modern multi-purpose gym, so it also offers plenty of high-tech cardio machines and a third-floor yoga studio complete with a roof deck.
What's more are the group, semi-private (4 people), and personal training sessions.
All fitness levels are welcome to join these, with an in-house team of certified coaches ready to help you achieve your goals in no time.
What Do You Need To Know Before Purchasing A Membership?
Open gym membership is $150 a month. For 8 or 12 group classes on top of that, it's $225 or $275 respectively.
Any of these memberships gives you unlimited yoga classes, which is a nice bonus.
A day pass, which can be used for an open gym session or one group class, costs $35. Purchasing 6 costs $180, 12 is $324, and 24 is $576.
Semi-private training is $60 per session, $360 for 6 sessions, $660 for 12 sessions, or $1200 for 24 sessions.
Personal training is $150, or $900 for 6 sessions, $1680 for 12 sessions, or $3120 for 24 sessions.
Are There Any Drawbacks?
None – this is an awesome multi-purpose facility with premium gym equipment, pro coaching, and upfront prices.
Who Should Work Out Here?
Beginners who want pro group, semi-private, or private training.
It's also for serious gym users, including powerlifters, bodybuilders, and Olympic athletes (who love to clean and jerk and snatch, and need the right equipment to do it).
You might be a powerlifter who's after something more old-school, however, and I get it. In that case, you might want to check out Squats and Science Williamsburg, worth mentioning as this gym review's runner-up.
Other Gyms In New York Worth Talking About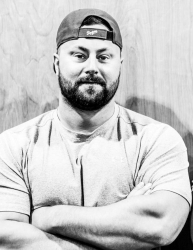 Latest posts by Avi Silverberg
(see all)