Venice CA is a buzzing beach town where you're bound to see a few beach bodies. After all, Arnold himself used to call this place home! There's a vibrant choice of gyms to explore opposite Venice Beach but, after careful consideration, I've narrowed it down to the best five worth talking about.
The Best Gyms In Venice Are:
Venice California is a unique neighborhood so these were hand-picked for a reason. Find out why below, along with each gym's benefits, drawbacks, and membership details.
To help you out even more, I also explain who should join and who should avoid!
Does Venice Have Good Gyms?
Reflecting Venice's lively, colorful streets is a vibrant gym choice that will excite any workout enthusiast – even those looking to start their fitness journey.
Venice might be small, but this neighborhood boasts a handful of good gyms, including a few well-known ones.
How Did I Pick The Best Gyms In Venice?
1. Building Muscle & Losing Fat
There's no doubt that a good number of people in Venice are out to achieve a beach body, all thanks to Venice Beach, the mile-long boardwalk, and the history of bodybuilding this neighborhood has.
For that reason alone, I set out to choose the best gyms to build muscle and lose fat – i.e. achieving a beach body fast!
2. Group Workouts
Venice is a social neighborhood – not just due to tourism, but the laid-back, outgoing vibe of its residents.
Working out with others is as rewarding as it is energizing, so I made sure to include the area's best gyms for those who thrive off workout buddies and group classes.
3. Outdoor Workouts
Need I say it? Venice basks in sunshine most of the year, which can make working out outdoors more appealing for some people.
So, I found Venice's best gyms that offer outdoor workouts! Still, I've made sure to include indoor gyms for those who simply prefer to keep cool.
Gyms In Venice: 5 Best Options
1. Deuce Garage – Best Strength Training Programs
Deuce Garage is, in fact, a converted garage, which might give you an idea of what the workouts are like!
This mostly outdoor facility offers a range of boot camp-style programs focused on building strength—physically and mentally—through functional training and conditioning.
What Are The Gym Benefits?
Coached programs at Deuce Garage include strength, strongman, bodybuilding, speed, gymnastics, and weightlifting.
There are intro and intermediate courses, so rest assured this place isn't just for jacked bodybuilders and hardcore athletes; all that's required is being up for a challenge!
"The yard" is where most of the workouts happen: a gritty outdoor space with elite equipment and an old-school vibe.
But it doesn't stop there, as Deuce Garage also has a sauna and ice bath for mental conditioning and breathwork.
All in all? This is a performance boot camp that's going to turn you into an athlete with a warrior's mentality.
What Do You Need To Know Before Purchasing A Membership?
Deuce isn't a gym chain or franchise. It only has two locations, so memberships and prices are only made available by contacting them.
Drop-in classes are available, however, and you can expect pricing to be based on their individual programs and courses.
Are There Any Drawbacks?
Hidden prices aside, I've nothing to say.
Who Should Work Out Here?
If you're looking for exciting performance-focused programs for building strength and shedding fat, this is the place for you.
If you don't like sweat-inducing outdoor workouts, however, or are looking for an open gym, you'll probably want to look elsewhere.
2. Paradiso Crossfit – Best For Crossfit & Community
Paradiso calls itself the number-one CrossFit gym in Venice – and I see why. With its massive community, Paradiso Venice is as much a social experience as it is a legit CrossFit program.
So for those seeking a sense of inclusion and community, it doesn't get much better than this.
What Are The Gym Benefits?
Everyone is welcome and classes are held regularly, involving all aspects of CrossFit: Olympic lifting, bodyweight, HIIT, cardio, and gymnastics.
Classes are held indoors (in an authentic urban CrossFit gym) and outdoors, with expert coaches who know their stuff.
But you won't just get support from the coaches, as the members here are the kind who motivate and build each other up!
As a result, Paradiso CrossFit is a place where you're guaranteed to find friendship, in addition to getting stronger, fitter, and more agile.
What Do You Need To Know Before Purchasing A Membership?
So there's a lot to unpack here, but that's a good thing if you like lots of options. It's all class-based, so simply choose a membership or pack that you can manage and afford.
First, drop-in is $30. You can also pay $100 for a week of unlimited drop-ins. A 5-session punchcard is $130, 10 is $250, and 20 is $450. For an open gym pass, it's $25.
Now for the memberships. Unlimited classes month-to-month (no contract) is $289. A full year paid upfront for unlimited classes is $2520.
You can also pay $269 for 3 months of unlimited classes or $1400 for 6 months. 2 classes per week is another option for $165 per month.
Lastly, for newbies, there's a special plan offering one month of unlimited classes for $199, no contract—a massive bargain if you make the most of it—plus one free class trial.
Are There Any Drawbacks?
None – Paradiso CrossFit simply offers the best community CrossFit experience in Venice CA with a range of price plans.
Who Should Work Out Here?
CrossFitters of all abilities and anyone looking to be part of an exciting and supportive fitness community. If you're not into CrossFit or large group workouts, though, this simply isn't the place for you.
3. Barry's – Best Weight Loss Group Fitness Classes
Barry's is pretty well-known – it's the ultimate get-fit boot camp. So, for fast weight loss in Venice California, it's worth considering.
Classes are open to all fitness levels , involving HIIT-style cardio and strength training with energetic music and motivational instructors.
What Are The Gym Benefits?
Barry's is all about sweating and burning calories. And if you can imagine a group workout taking place in a nightclub, that's pretty much what it is.
Classes are led by chatty, but motivational, instructors, with exercises involving free weights, treadmill running, and bodyweight HIIT.
What's great about Barry's Venice, though, is that it's SoCal's largest Barry's.
The Red Room studio is large, and there are other amenities including in-house fuel bar, merch shop, and Flex Lounge – a place where you can wind down and socialize post-workout.
What Do You Need To Know Before Purchasing A Membership?
It's $32 for 1 class, $155 for 5, $300 for 10, $720 for 35, and $1375 for 50.
As for memberships, it's $205 per month for 8 monthly classes, $280 per month for 12 classes, $345 per month for 16 classes, and $400 for 30 classes.
There's no free trial at Barry's, but you can get a first-timer 3-class pack for $100 or a 14-class 2-week membership for $198.
Are There Any Drawbacks?
Barry's is a fast-paced group workout class performed in a dark studio with loud music. Needless to say, it's not for everyone.
Who Should Work Out Here?
Group fitness junkies and people looking to lose weight fast in a high-energy setting.
If you don't like working out in the dark, however, or with loud music blaring, you might want to consider somewhere else (F45 Training Venice is an alternative worth looking at).
4. Muscle Beach Venice – Best For Bodybuilders
Muscle Beach Venice isn't the OG Muscle Beach (beside Santa Monica Pier) but its little sibling. Arnold Schwarzenegger himself used to work out here, so it's not to be ignored if you're into bodybuilding.
This hotspot is famous, needless to say, with events held throughout the year!
What Are The Gym Benefits?
If you want to meet bodybuilders and be seen working out in public, Muscle Beach Venice is the place.
It's got all the right stuff for strength training—benches, a power rack, dip bars, and pull-up bars—with a seriously old-school feel that bodybuilders will love.
Due to that, as well as this place's history, it's a great spot to not only work out, but mingle with other bodybuilders and feel part of the local community and bodybuilding scene.
It's also perfect to drop in if, now and then, you just feel like working out outdoors!
What Do You Need To Know Before Purchasing A Membership?
Despite being an outdoor gym, Muscle Beach Venice isn't free. It'll cost you $10 to work out for the day, $50 for a week pass, and $200 yearly if you want to turn up anytime.
Are There Any Drawbacks?
It isn't large. Expect crowds on some days and therefore waiting times to use certain machines, which are also rusty.
Due to this, and in my opinion, Muscle Beach Venice is more of an attraction and bodybuilding hotspot than a place to do a proper workout.
Who Should Work Out Here?
If the above didn't make it obvious, Muscle Beach Venice is a bodybuilder's playground and hotspot – not just for working out, but for mingling and being part of the scene.
It's not really for any other kind of gym-goer, though, and not the place to go to for a full workout.
5. Gold's Gym – Best Gym Overall
Gold's is easily the most popular gym in Venice. Arnold used to go here too, and the influence he left behind is seen in its members, as well as the vibe and strength training equipment this gym offers.
So, for the best overall gym in Venice, this is it.
What Are The Gym Benefits?
Gold's Gym Venice kind of sets itself apart from other Gold's. It has an old-school feel complete with undercover and outdoor workout sections.
For cardio and strength training, this gym offers all the equipment any gym enthusiast could want, in addition to personal training services, locker rooms, and showers.
The hours here are straightforward: 5am-11pm, 7 days a week. And since Gold's Venice is so popular, it's a gym where you can feel part of the local fitness community.
Expect zero judgment too, with a member base involving everyone from beginners to powerlifters.
What Do You Need To Know Before Purchasing A Membership?
Just like this gym's hours, Gold's Venice has a straightforward membership plan: $100 month-to-month, no contract.
Are There Any Drawbacks?
It's large with long hours, but expect this gym to get busy at peak periods. And unlike some other Gold's Gyms, this one doesn't offer group fitness classes.
Who Should Work Out Here?
Any workout enthusiast looking for a no-nonsense gym with long hours and a great selection of equipment, indoors and outdoors!
If you have a small budget, however, don't want to deal with large crowds (now and then), or are expecting group fitness classes, you'll want to consider elsewhere.
Other Gyms In California Worth Talking About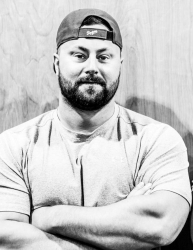 Latest posts by Avi Silverberg
(see all)