Hey, Sherman Oaks might be a quiet suburban neighborhood, but it has a bunch of gyms worth talking about. Like me, you'll be surprised by what Sherman Oaks has to offer! Choosing just one gym here can be hard, in fact, so I've rounded up Sherman Oaks' best five gyms.
The Best Gyms In Sherman Oaks Are:
Most of these gyms are independently owned, so it's worth finding out what they offer. Below, I review the benefits, drawbacks, and membership prices, followed by who should sign up and who should avoid. In other words: don't join just yet!
Does Sherman Oaks Have Good Gyms?
You'll find a few big fitness franchises in Sherman Oaks, including LA Fitness, 24 Hour Fitness, and Orangetheory, but an even bigger selection of family-run gyms and fitness studios.
Most of these are located along Ventura Boulevard, Sherman Oaks' vibrant avenue of shops, restaurants, and cafes.
How Did I Pick The Best Gyms In Sherman Oaks?
1. Flexible Membership Plans & Prices
A wide choice of price plans is sometimes better than a few simple membership options.
For that reason, I set out to find the best gyms in Sherman Oaks that offer flexible memberships for all budgets, with prices told upfront! Almost all these gyms also offer no lock-in contracts.
2. Good Equipment & Facilities
Good equipment is a must for gym users, and member facilities are always a nice bonus that can add value to a membership.
The following gyms I chose offer one, or both, of the above, so rest assured that you'll get good value for your money.
3. Sense Of Community
Sherman Oak has a small-town suburban feel, so it made sense to include the best gyms offering a sense of community and belonging.
So whether you're looking for group fitness classes, friendly gym-goers, or welcoming staff, you'll find something for you below.
Gyms In Sherman Oaks: 5 Best Options
1. 24 Hour Fitness – Best Budget-Friendly Gym
For newbies and casual gym-goers, 24 Hour Fitness Sherman Oaks (Galleria Sport Gym) is a budget-friendly option that ticks the right boxes.
It's large with lots of cardio machines, strength training machines, and free weights, plus group fitness classes, personal training, and great onsite facilities.
What Are The Gym Benefits?
This gym is a good choice for all-around fitness, whether you're looking for an open gym to drop in, group fitness classes to join, or help from a personal trainer.
And alongside the well-equipped gym, there's a sauna, steam room, and whirlpool to take full advantage of.
Group fitness classes include Zumba, Pilates, cycling, and kickboxing with up to three classes held per day.
24 Hour Fitness is also a pretty laid-back gym, so being judged is something you won't have to worry about here – especially if you're a total beginner.
What Do You Need To Know Before Purchasing A Membership?
There are two memberships here: Gold and Platinum. Gold is paid monthly ($29.99) while Platinum can be paid monthly ($49.99) or yearly ($299.99 upfront).
There's a $49.99 annual fee for monthly memberships while Platinum yearly has none. Monthly memberships also have a $1 sign up fee.
The difference? Gold offers regional access to 24 Hour Fitness gyms, facilities, and group fitness classes. Platinum offers the same as Gold but with national access and 2 buddy passes.
Are There Any Drawbacks?
Did you know that not all 24 Hour Fitness gyms are 24 hours? 24 Hour Fitness Sherman Oaks is one of those, unfortunately.
Who Should Work Out Here?
For general fitness, this gym's a great choice for casual gym users and first-timers. But if you're looking for better group fitness classes (on a budget), I'd consider Orangetheory Sherman Oaks.
For those who take weightlifting seriously, I'd avoid this gym and look for somewhere with better machines and weights.
2. Proficiency Fitness – Best For Cleanliness & Quietness
If the only thing stopping you from hitting the gym is how crowded some can get, Proficiency Fitness is the gym you've been searching for.
This gym is upfront with what it offers: clean and organized equipment, no noise, and no crowds.
What Are The Gym Benefits?
Proficiency Fitness is a boutique gym with rules centered around no noise and no mess. As a result, talking on the phone, grunting, weight dropping, or leaving weights unracked is not allowed.
These are obvious benefits if you don't like noisy, messy, or unclean gyms, which also gives this gym an exclusive, private feel.
There are no group fitness classes or facilities here either, so what it offers overall is simple: total focus on your gym workout with zero distractions or waiting around. Personal training is also available if you want it.
What Do You Need To Know Before Purchasing A Membership?
It costs $150 per month, one-year contract. For 1-on-1 personal training, it's $75 for one hour.
Are There Any Drawbacks?
While the rules might be a good thing for some, it's a drawback for others. So if you don't like strict rules, expect to receive warnings and some kind of penalty.
Who Should Work Out Here?
Don't like mess, noise, and crowds at the gym? Proficiency Fitness was made for you. For bodybuilders, powerlifters, CrossFitters, and anyone who doesn't like strict gym rules—or even lock-in contracts—definitely look elsewhere.
3. Peak Performance & Recovery – Best For Health & Wellness Facilities
Peak Performance & Recovery is not only a gym but a health and wellness center offering a range of premium services for de-stressing, pampering, and rehabilitation.
If you like to wind down as much as you like to work out, this is a place worth keeping on your radar.
What Are The Gym Benefits?
You can work out, de-stress, and recover all in one place here. And its range of state-of-the-art recovery services includes whole body cryotherapy, localized cryotherapy, cryofacial treatment, infrared sauna, light therapy, and leg compression therapy.
So, if you like to de-stress and pamper yourself now and then or need injury rehabilitation, there's nothing better.
Peak Performance & Recovery also offers expert personal training, with programs that involve a mixture of exercise and recovery – something you won't find at every gym!
What Do You Need To Know Before Purchasing A Membership?
You've three no contract memberships here: Peak 1, Peak 2, and Peak VIP. There's a $100 enrollment fee for all memberships and you cancel anytime by giving 30 days' notice.
Peak 1 is $99 per month, offering 15 gym sessions (90 minutes), 2 recovery services, and 10% off all wellness services.
Peak 2 is $149 per month, offering 1 gym session per day, 2 recovery services, and 10% off all wellness services.
Peak VIP is $299 per month, offering 15 gym sessions, 8 cryotherapy sessions, 8 infrared sauna sessions, 8 light therapy sessions, and 8 leg compression therapy sessions.
Monthly personal training memberships include 2 sessions per week for $162 or 3 sessions per week for $225 (the $100 enrollment fee applies here too).
Not interested in the gym? Aside from individually priced services, there are also monthly Wellness and Rejuvenation memberships: Elite ($99) for 4 services per month and Ultimate ($269) for 1 service per day.
Elite has a 3-month minimum term and Ultimate has a 2-month minimum term.
Are There Any Drawbacks?
The $100 enrollment fee for Peak and personal training memberships. And while 90 minutes is plenty of time to get a good workout in, the open gym session time limit might be a drawback for some.
I also have to add that the gym here is not what you'd call big.
Who Should Work Out Here?
This is an easy choice for those who enjoy health and wellness facilities as much as working out at the gym.
For injury rehab, it's also worth considering. If you want or need a bigger, better-equipped gym, however, this place isn't the best option.
4. CrossFit Dark Horse – Best Group Workouts
When it comes to community-style group workouts, CrossFit gyms always come out on top.
CrossFit Dark House is no exception, offering fun, yet challenging, group classes in a superb indoor and outdoor facility with 24/7 gym access and a friendly community.
What Are The Gym Benefits?
Whether you're a new or experienced CrossFitter, Dark Horse welcomes all to its CrossFit workouts, which involve Olympic lifting, yoga, cardio, HIIT, calisthenics/gymnastics, and weightlifting. On weekdays, there are up to 10 classes per day!
Other bonuses include open gym access, personal training, nutrition coaching, and even custom programming.
The coaches are just as supportive and encouraging as the members who go here, where you're sure to meet new workout buddies and feel part of the local fitness community.
What Do You Need To Know Before Purchasing A Membership?
Here are your prices: it's $135 per month for 2 classes each week, $195 per month for 3 classes each week, $225 per month for 4 classes each week, or $255 per month for unlimited classes with 24-hour gym access.
24/7 gym access can be added to any membership for an extra $23 per month. Not interested in classes and just want to use the gym? That'll cost you $135 per month.
One-week visitor passes cost $75 and 10-class packs cost $225.
To cancel your membership, just fill out the online form on their website 30 days before your next bill.
Are There Any Drawbacks?
24/7 gym access might only be available outside of class hours. Other than that, none!
Who Should Work Out Here?
Interested in CrossFit, dynamic functional training, or an exciting member community?
These are good reasons to join Dark Horse. Otherwise—and if you also consider yourself injury-prone—try first for one week or weigh up other options.
5. Dragonfly Cycling – Best Boutique Fitness Studio Classes
It might be called Dragonfly Cycling, but classes at this boutique fitness studio are diverse.
With its great team of in-house instructors, attractive warehouse-style studio, and packed class schedule for all abilities and interests, this is Sherman Oaks' best fitness studio.
What Are The Gym Benefits?
You won't just get spin classes here; these guys mix it up with upper body, lower body, HIIT, toning, and TRX (to name a few)—involving weightlifting and other forms of cardio—with up to 4 50-minute classes to choose from per day.
What's more, Dragonfly Cycling keeps its spin classes exciting with rotating "mixtapes", such as 70s, 80s, 90s, alt rock, midwest hip hop, and songs to sing to!
As a boutique fitness studio, this is another place where you'll be inspired by the trainers and supported by the members. And if you need extra support, private and semi-private training is also available.
What Do You Need To Know Before Purchasing A Membership?
Totally new? Get your first class for $10 or one month of 10 classes for $79.
Other than that, monthly memberships (3-month minimum) cost $99 for 5 classes per month, $149 for 8 classes per month, $209 for 12 classes per month, $259 for 16 classes per month, $319 for 20 classes per month, and $419 for 28 classes per month.
Drop-in classes are $25. Class packs, on the other hand, are $115 for 5 classes, $220 for 10 classes, $420 for 20 classes, $600 for 30 classes, and $825 for 50 classes.
Semi-private training is $60 for 1 session, $275 for 5 sessions, and $500 for 10 sessions. Private training is $90 for 1 session, $425 for 5 sessions, and $800 for 10 sessions.
Are There Any Drawbacks?
None – Dragonfly Cycling offers a host of fun group fitness classes with flexible pricing and a great community following.
Who Should Work Out Here?
Love group fitness classes and want to be part of a local fitness community? Dragonfly Cycling is the best option here.
If you're not into group fitness, however, it goes without saying that this studio simply isn't for you.
Other Gyms In California Worth Talking About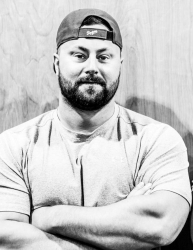 Latest posts by Avi Silverberg
(see all)