If you're heading to San Antonio, you'll be glad to know that this vibrant city has a ton of great gyms. Choosing one can be hard (San Antonio is large, after all) but don't fret – I've rounded up the best five options for you to look at today.
The Best Gyms In San Antonio Are:
You probably know Crunch and LA Fitness but there's a good chance you haven't heard of the others! Find out why I chose these below along with the benefits, drawbacks, and membership prices – all the details you need to know before joining.
Does San Antonio Have Good Gyms?
San Antonio might be a top tourist destination but it has just as many good gyms as attractions. So no matter whether you're looking for neighborhood gyms, budget gyms, or CrossFit gyms in San Antonio, there's going to be a gym here that's right for you.
Gyms In San Antonio: 5 Best Options
1. Crunch Fitness – Best Budget Gym
San Antonio has two great budget gyms: Crunch Fitness and Planet Fitness. But Crunch wins for its larger size, better equipment and gym facilities, and group fitness classes. It also offers more membership options, with two gym locations in San Antonio.
What Are The Gym Benefits?
Crunch Fitness Marbach is large and fully equipped with cardio machines, strength machines, and free weights. There's even a HIIT zone with punching bags, med balls, and kettlebells, plus an area with squat racks and bumper plates for powerlifting and weightlifting.
Group fitness classes (such as Zumba, HIIT, Ride, Absolution, Chisel) are held regularly with dedicated studios for cycling and Zumba. You can also enjoy HydroMassage and tanning, plus sauna sessions (saunas in both men's and women's locker and shower rooms).
What Do You Need To Know Before Purchasing A Membership?
You get a choice of three memberships at Crunch: Base ($9.99 monthly with annual commitment or $14.99 monthly), Peak ($21.99 monthly with annual commitment or $26.99 monthly), and Peak Results ($29.99 monthly with annual commitment or $34.99 monthly).
Base lets you work out at one Crunch gym – no classes or facilities. Peak lets you visit and join group classes at any Crunch gym. And Peak Results gives you access to any Crunch gym with group fitness classes, facilities (HydroMassage and tanning), and guest privileges.
There's a $49 enrollment fee for both Base memberships, $29 enrollment fee for Peak monthly, and $19 enrollment fee for Peak with annual commitment.
All memberships have a processing fee of $10. There's also an annual fee of $54.11, plus taxes.
Are There Any Drawbacks?
Need I say it? Crunch has fees galore.
Who Should Work Out Here?
If you want a large, fully equipped gym with group fitness classes and facilities, Crunch Fitness is ideal if you can stomach the fees. But if you don't like fees and won't join the group fitness classes, I'd choose Planet Fitness San Antonio instead.
2. CrossFit San Antonio – Best For CrossFit
CrossFit San Antonio was the first CrossFit gym to open in San Antonio so the culture and sense of community here are second to none. It offers world-class CrossFit coaching and bootcamp training in its legit CrossFit facility, complete with a simple, fixed class schedule.
What Are The Gym Benefits?
This is San Antonio's OG CrossFit gym, so CrossFitters will feel right at home. It's big with a warehouse vibe, and fully equipped with everything needed for CrossFit and bootcamp HIIT workouts. It also boasts a large CrossFit community!
Still, newbies are welcome. The coaches encourage everyone and there's a real sense of family-like support here. Classes are held every day with a fixed weekly schedule, and you can even drop in for a free class of your choice – no appointment needed.
What Do You Need To Know Before Purchasing A Membership?
Memberships (unlimited classes) are month-to-month for $180, 3 months for $160, and 1 year upfront for $1560. Discounts are available for USAA, student military, first responders, nurses, teachers, and couples.
Otherwise, it's $20 for out of town drop ins or $10 for multiple date out of town drop ins. 2 fundamental classes are also available for $50 if you want to learn the basics first.
Are There Any Drawbacks?
None – CrossFit San Antonio easily tops the best CrossFit gyms in San Antonio in my opinion.
Who Should Work Out Here?
New and experienced CrossFitters looking for the best CrossFit gym and community in San Antonio. Even if you're not yet sold on CrossFit, you can check one class out for free. Unfortunately, CrossFitters hoping for open gym access will want to look elsewhere.
3. LA Fitness – Best For Club Facilities
If you're looking for gyms with pools in San Antonio, LA Fitness is your best option. There's a total of 8 LA Fitness locations in San Antonio, each offering indoor pool, whirlpool spa, sauna, and racquetball/squash facilities, plus group fitness classes held 7 days a week.
What Are The Gym Benefits?
LA Fitness offers the most club facilities in San Antonio with daily group fitness classes (such as Zumba, boot camp, yoga, power circuit, and mat Pilates) included in the membership. And yep, membership gives you access to any location.
As for the gyms, these are large and equipped with all the basics for cardio and resistance training. LA Fitness also has racquetball/squash and basketball courts, Kids Klub (onsite childcare while you work out), free WiFi, and personal training if you need it.
What Do You Need To Know Before Purchasing A Membership?
There are two memberships at LA Fitness: $34.99 or $50.99 monthly. Both give you full access to any LA Fitness gym, the only differences being the $50.99 membership excludes the initiation fee ($99) and provides 2 guest passes per visit.
If you join, you have to pay the first and last dues upfront along with a $49 annual fee billed 14 days after enrollment.
Are There Any Drawbacks?
The hefty upfront cost, which includes first and last dues plus the annual fee.
Who Should Work Out Here?
Fresh starters, casual gym-goers, and anyone who wants club facilities and group fitness classes on top of gym access. But if you won't take advantage of the facilities and classes or want high-quality equipment and machines, you'll want to skip this one.
4. Heavy Metal Fitness – Best For Strength Training
Heavy Metal Fitness is an all-out strength training gym with premium machines, weights, and equipment in a modern workout space. Where this gym also stands out is that it boasts an outdoor area with Atlas balls and tyres for authentic Strongman training.
What Are The Gym Benefits?
HMF is a modern iron paradise with all the tools for building strength and putting on muscle. It's not a beat-up-looking neighborhood gym (which some weightlifters prefer), but you'll love it here if you want state-of-the-art machines and equipment that are always well-maintained.
The bonus is the outdoor area where you can train Strongman-style. Heavy Metal Fitness is also cooking up a new and improved class schedule (held outdoors), which is worth looking out for if you're new to strength training and like small classes with an inclusive feel.
What Do You Need To Know Before Purchasing A Membership?
HMF offers "affordable membership options" but they want you to call or drop in to tell you the prices. Day passes are $10, with week passes and other short-term options available.
Are There Any Drawbacks?
Aside from not knowing how much memberships cost, there's a lack of cardio machines here. Still, it's clear this gym is all about strength.
Who Should Work Out Here?
Bodybuilders, powerlifters, Olympic weightlifters, and anyone who's into functional strength training. Beginners new to strength training should also check out the upcoming classes. Casual gym-goers and those who do cardio, however, should look elsewhere.
5. Texas Muscle And Fitness – Best Premium Gym
TX Muscle and Fitness enters this list as the best gym overall in San Antonio. It's large with top-of-the-range machines and equipment, a great gym atmosphere, personal training services for all fitness levels, and straightforward prices.
What Are The Gym Benefits?
Texas Muscle and Fitness LCC on W Loop 1604 N has ample cardio and strength training machines for any kind of fitness goal. The machines, free weights, and weight plates are high-quality, too, despite the gym having a beat-up, old-school look.
This flagship location also offers a turfed outdoor functional fitness area for HIIT, sparring, sled pushes, tyre flipping, calisthenics – you name it. On top of that, it's well-maintained (being family-run) with a great gym atmosphere for anyone who's serious about working out.
What Do You Need To Know Before Purchasing A Membership?
It's $49.99 monthly, $30 for a one-week pass, or $15 for a day pass.
Nice and simple but just take note: all prices don't include tax and the monthly membership comes with a $19.99 sign-up fee.
Are There Any Drawbacks?
TX Muscle and Fitness has two locations but both are located on the outskirts of San Antonio, so they might be hard to reach if you live centrally. The second location, which is in Converse, is also smaller and not as well-equipped.
Who Should Work Out Here?
Fitness enthusiasts looking for a 24/7 gym that's better than the local chain gyms. The only reasons I'd avoid are if you need a central San Antonio gym or want group fitness classes (this gym only offers personal group training).
Other Gyms In Texas Worth Talking About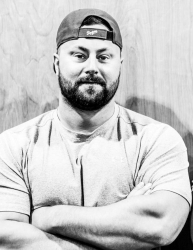 Latest posts by Avi Silverberg
(see all)