Manhattan is diverse and exciting with lots to explore. But if you're like me, exploring the gyms comes first! Manhattan might be NYC's smallest borough yet it boasts as many gyms as Brooklyn and Queens. And, below, I've provided the top five choices.
The Best Gyms in Manhattan are:
Yep, Planet Fitness is included, but you won't find out why unless you check out its review! Find the benefits, drawbacks, and membership prices below, as well as who should join and who should avoid – all the straight details you need to know before signing up.
Does Manhattan Have Good Gyms?
Manhattan has lots to offer and that doesn't exclude gyms. Whether you're looking for a niche gym, boutique studio, or an all-in-one fitness club, Manhattan has it all. Rest assured you're spoiled for choice in "The Little Apple"!
How Did I Pick The Best Gyms In Manhattan?
1. Gym Diversity
Manhattan is one of NYC's most diverse boroughs. There are people of all kinds living and traveling here, so choosing a diverse choice of gyms made sense to me. So, no matter how you like to train, I rounded up the best Manhattan gyms for all types of gym-goers.
2. Accessibility
It gets pretty busy in Manhattan, needless to say. And let's face it: none of us want to wait 20 minutes to hit the bench or squat rack. Thankfully, there are Manhattan gyms with memberships that allow you to visit different locations, so I've included them here.
3. All Budgets
Going back to how populated Manhattan is, I thought it was important to find the best Manhattan gyms for all budgets. Working out in the city doesn't have to mean spending a fortune, so rest assured the following gyms don't all have expensive memberships!
Gyms In Manhattan: 5 Best Options
1. Gym NYC – Best Gym Overall
Gym NYC is the newest gym on the block for fitness enthusiasts who don't mess around. Gym NYC calls itself a basement club and it's easy to see why – it boasts an old-school gym vibe with top-notch equipment, showers, and personal training services, making it this area's best gym overall.
What Are The Gym Benefits?
Gym NYC is everything a gym should have and look like. It's not large, but that's because it's for those who take working out seriously.
There are enough cardio machines, free weights, and kettlebells to go around, in addition to power racks, benches, and a dedicated deadlift station.
Aside from being an all-out iroin playground, Gym NYC also offers professional training programs: cardio, HIIT, corrective exercise, strength, and bodyweight. So, even if you're new to working out—but serious about your goals—this place is going to benefit you.
Lastly, this gym is family-run. The staff are friendly and there's a real sense of community among its members, consisting of powerlifters and bodybuilders.
What Do You Need To Know Before Purchasing A Membership?
Gym NYC is small and family-owned, so rates and memberships are provided on request. From what members say, though, prices at Gym NYC aren't unreasonable and there are no lock-in contracts. In other words: good value and no long-term commitment.
Are There Any Drawbacks?
Aside from not knowing the rates, none. Sure, it might be smaller than other gyms, but Gym NYC was not designed to be "commercial" or crowded.
Who Should Work Out Here?
Weightlifters of all kinds who take their gym visits seriously, as well as beginners who want some of the best personal training in the area. For casual gym-goers, though, Gym NYC probably won't be worth signing up to price-wise.
2. Planet Fitness – Best For Gym Accessibility
Most people have heard of Planet Fitness: it's the biggest gym franchise out there, offering budget-friendly gym memberships aimed at casual gym-goers and newbies. But why it's on this list is because of its accessibility – it's open 24 hours, 4 days a week with over 10 locations in Manhattan.
What Are The Gym Benefits?
Firstly, Planet Fitness is cheap with everything you need to get a good workout on: cardio machines, free weights, weight machines – you name it. All kinds go to Planet Fitness, so there's no judgment if you're a total newbie.
By signing up for the PF Black Card, you get access to all Planet Fitness locations, and there are over 10 in Manhattan alone – open 24 hours, four days a week. This is a massive benefit since you can visit all branches and use the online Crowd Meter at any time to see which ones are busy!
What Do You Need To Know Before Purchasing A Membership?
PF Black Card costs $24.99. And in addition to accessing all locations and their facilities, you can bring a guest and get 50% off select drinks (plus 20% off at Reebok.com). This membership also has the cheapest startup fee at $1.
The Classic and No Commitment memberships don't offer those above perks. Classic is $10 monthly with a $49 startup fee and 12 months' commitment. No Commitment costs $15 monthly with a $59 startup fee, but you can cancel at any time. Each membership has a $39 annual fee.
Are There Any Drawbacks?
The annual fee isn't ideal and the equipment isn't the best in quality. Planet Fitness can get crowded as well, simply because it's, well, the cheapest, most popular gym around.
Who Should Work Out Here?
If you're a beginner or someone who's casual about working out, Planet Fitness offers value for money. It's also perfect if you want to visit different locations and avoid crowds, with the option of 24-hour access. If you're a serious gym-goer, though, you'll know why you should avoid.
3. Manhattan Plaza Health Club – Best Fitness Club & Facilities
Boasting a strength training floor, cardio mezzanine, 75-ft indoor pool, climbing gym, spa, sundeck, and wide range of group fitness classes, Manhattan Plaza Health Club is, simply put, second to none as Manhattan's all-in-one fitness center.
What Are The Gym Benefits?
The big benefit here is having more than just a gym: MPHC membership offers you a host of sports and wellness facilities at your disposal. This, in addition to a diverse group class schedule, is ideal if you like to mix things up when it comes to fitness.
Everything here is state-of-the art, from the junior Olympic size pool to the gym equipment and shower facilities. And for the cost of the membership ($99 a month), you're simply getting tons of value considering everything MPHC lets you take advantage of.
What Do You Need To Know Before Purchasing A Membership?
Full membership will cost you $99 a month and a $29 process fee. This gives you unlimited access to the weight training floor, functional training floor, cardio mezzanine, climbing gym, and group exercise classes (including virtual live and on-demand classes). There is no free trial, but you can grab a discounted day pass to check the place out for 25 bucks.
Are There Any Drawbacks?
None – Manhattan Plaza Health Club simply offers huge value for its high-quality fitness facilities, wellness facilities, and group fitness classes.
Who Should Work Out Here?
If you want to take full and exclusive advantage of a range of facilities (in addition to going to the gym), look no further. Otherwise, if you can't see yourself using everything MPHC has to offer, you'd simply save money going elsewhere.
4. JDI Barbell – Best For Strength Training & Powerlifting
JDI Barbell is all about unleashing the competitive potential in its clients. But this gym isn't just for powerlifters or bodybuilders; it offers an open gym, plus personal training, for all weightlifters who want to be part of a close-knit community that's dedicated to lifting.
What Are The Gym Benefits?
JDI Barbell is a gym for strength; it boasts competition-grade weights and strength training machines that won't disappoint even the most hardcore powerlifter. And if you're just starting out, JDI offers a range of professionally coached training programs and two beginner classes on weekends.
This gym is not large but it's not meant to be – as JDI Barbell wants to create a sense of community. So, if you're someone who likes to train with others, this gym doesn't just offer personal training, but the kind of members who support each other and don't judge.
What Do You Need To Know Before Purchasing A Membership?
Membership costs $179.64 per month, no contract, which includes gym access, in-house coaching, and the online training programs they offer. You can also cancel at any time by just giving 15 days of notice.
Are There Any Drawbacks?
It's expensive, but you're paying for world-class personal training and competition-grade workout equipment. The open gym hours (listed above) are limited, I have to say, since at other times the gym is for Coaches' Hours (personal training) only.
Who Should Work Out Here?
Aspiring powerlifters and bodybuilders, competitive powerlifters training for meets, and anyone who wants world-class weightlifting coaching. Needless to say, if you're not serious about weightlifting—or want longer open gym hours—you'd be better off looking at a cheaper gym.
5. CompleteBody – Best For Boutique Group Fitness Classes
CompleteBody is Manhattan's best boutique fitness studio for group fitness classes and premium amenities. It has four stunning studios across Manhattan, but the two worth considering are CompleteBody 14th Street and CompleteBody Financial District.
What Are The Gym Benefits?
Both CompleteBody 14th Street and CompleteBody Financial District offer unlimited group fitness classes for burning fat and building muscle: core, Pilates, spin, Zumba, booty pump, aerobic dance, boxing/kickboxing, yoga, barbell, fight club, and climb, to name a few.
What you'll also benefit from is a number of wellness amenities. 14th Street features a strength floor, cryotherapy spa, rooftop deck, cafe & juice bar, sauna, and Himalayan salt lounge while Financial District features a rock climbing wall, tanning service, and sauna – all yours to take advantage of depending on where you sign up!
What Do You Need To Know Before Purchasing A Membership?
For CompleteBody 14th St, it's $199 month to month or $185 monthly on a 12-month agreement. Enrolment fee is $79, with an annual fee of $79.
For CompleteBody Financial District, it's $115 month to month or $99 monthly on a 12-month agreement. Enrollment fee is $49, with an annual fee of $49. Month to month memberships can be canceled any time with 30 days notice.
Are There Any Drawbacks?
CompleteBody 14th Street and CompleteBody Financial District have different membership prices, so, unfortunately, paying at one studio doesn't give you access to the other.
Who Should Work Out Here?
People who love boutique group fitness classes, as well as the idea of having premium amenities to enjoy. If you don't think you'll take advantage of unlimited classes, however, you'll probably save money signing up elsewhere.
Other Gyms In New York Worth Talking About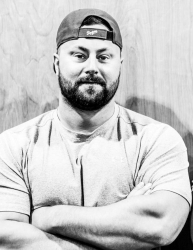 Latest posts by Avi Silverberg
(see all)