I enjoyed reviewing Arlington's best gyms. The selection isn't huge in this small neighborhood, but if you're willing to explore the nearby areas of Poughkeepsie, there's a lot on offer!
So, if you're heading to Arlington, these are the gyms you need to know about.
The Best Gyms In Arlington Are:
But wait… Before you sign up, check out the benefits, drawbacks, and membership prices below. I provide all the little details, including who should join and who should avoid, so you know exactly what you're getting into!
Does Arlington Have Good Gyms?
Arlington is a small neighborhood in the Town of Poughkeepsie (and a suburb of the City of Poughkeepsie).
Arlington doesn't have many gyms, but if you're willing to drive, the surrounding areas of the Town of Poughkeepsie provide enough options to satisfy most.
How Did I Pick The Best Gyms In Arlington?
1. Gym Variety
Arlington doesn't have many gyms so it was important to find gyms that offer a variety for people with different training styles and needs.
Not all the following gyms are in Arlington, but they're not far! I've offered a good variety that caters to all kinds of gym users.
2. Sense Of Community
Again, Arlington isn't a big place. The population is small so if you're moving here, you might be looking to meet people and feel part of the community.
For that reason, I included gyms in the area that offer a sense of community and inclusion.
3. Range Of Prices
Signing up to a gym shouldn't have to cost a bomb – especially when you're not residing in the city.
I chose gyms that offer a range of prices to cater to all budgets, so no matter whether you have a monthly price in mind or not, rest assured there's something for you.
Gyms In Arlington: 5 Best Options
1. Gold's Gym – Best For General Fitness
Gold's is a well-known gym chain offering mid-range gym equipment, facilities, and group fitness classes. For beginners and experienced gym-goers, Gold's Gym Poughkeepsie is worth looking at as a good all-rounder for general fitness.
What Are The Gym Benefits?
Like all Gold's Gym branches, Gold's Gym Poughkeepsie is large with plenty of great equipment for cardio and strength training.
This specific location also features a sauna/steam room, boxing area, basketball court, and racquetball court, plus a locker room, smoothie bar, and women's only workout area.
There are daily group fitness classes to join—including Zumba, yoga, core, and boxing—plus personal training if you need it.
The big benefit is that, overall, Gold's Gym Poughkeepsie has everything you need to improve your general fitness.
What Do You Need To Know Before Purchasing A Membership?
It'll cost you $39.99 per month to go here, with an annual fee of $39.99 billed 65 days after joining. One perk is that you get one free personal training session.
Are There Any Drawbacks?
This is your average mid-range gym, so powerlifters or Olympic lifters won't find all the equipment they need here.
Who Should Work Out Here?
Beginners, casual gym-goers, and gym enthusiasts looking for an adequate choice of equipment, facilities, and group fitness classes. For powerlifters and Olympic lifters, though, Gold's just isn't the best option.
2. FITSOCIAL – Best Group Fitness Studio Classes
FITSOCIAL is a boutique fitness studio located in the City of Poughkeepsie (just west of Arlington), offering superb group fitness classes for all abilities and commitment levels.
Classes here are diverse and engaging, performed to chill beats in a large, well-lit studio!
What Are The Gym Benefits?
FITSOCIAL offers engaging classes in a modern studio that also has a SOCIALBAR for post-workout smoothies and refreshments.
This place is just as much a social experience as it is a group workout, with expert-led classes that include upper body strength, upper/lower body circuit, HIIT, core, spin, and Pilates.
FITSOCIAL welcomes all abilities and ages (even kids), and has a range of payment options to suit all levels of commitment. All in all, if you're looking to get fit and be part of an intimate fitness community, FITSOCIAL is worth looking at.
What Do You Need To Know Before Purchasing A Membership?
You know what you're getting here. FITSOCIAL offers one month of unlimited classes with no commitment for $159.95, or unlimited classes for $139.95 with 2 months' minimum commitment (cancel with 30 days notice).
Other plans include a 4-class monthly membership for $71.95 or an 8-class membership for $111.95 – both with 2 months' minimum commitment. A 12-class pass with no commitment is $192.
If you just want to try the place out, drop in for $19, or experience a one-week pass (7 classes) for $65.95.
Are There Any Drawbacks?
None – if you're looking for a boutique studio offering engaging group fitness classes, FITSOCIAL checks all the boxes.
Who Should Work Out Here?
Those who love group classes and like the idea of being part of a social fitness community. If you're looking for a wider choice of classes than those listed above, however, you might want to look elsewhere.
3. Sweat With Sally – Best Strength Training & Toning For Women
Sweat with Sally is another fitness studio located in the City of Poughkeepsie, run by Sally Torreggiani who's a certified expert in Lagree-style Pilates.
Classes here are all about focused exercises for women who want to get stronger, fitter, and more mobile.
What Are The Gym Benefits?
Sally Torreggiani's classes involve Megaformers for total-body Pilates and strength training.
The studio is bright, clean, and modern, with each class centered around Lagree – a training method that—despite involving slow, low-impact exercises—works to elevate your heart rate and get your muscles shaking!
Classes are small and Sally is highly qualified, so you know you'll get a good workout each time. Her group classes are 50 minutes long, with up to 3 classes per day.
She also offers private Megaformer one on one and duet sessions, both at a discounted price for members.
What Do You Need To Know Before Purchasing A Membership?
You can pay by the class and buy class packages, or pay a monthly membership for 10 classes per month. Prices at Sweat with Sally are honest and memberships can be canceled in 24 hours – things that I (and, I'm sure, you) like to see!
Bear Membership is $248 per month, giving you 10 monthly group classes and 10% off private sessions. There's also a Teaser Membership for $160, which gives you 6 classes and 5% off private sessions.
Other than that, it's $150 for 5 classes, $280 for 10 classes, and $500 for 20 classes. New clients can also enjoy a 5-class special for $50 – a huge bargain.
Are There Any Drawbacks?
It's expensive, sure, but this is a professional Pilates studio with state-of-the-art Megaformers and a coach who knows what she's talking about.
Who Should Work Out Here?
Women who don't enjoy fast, intense workouts and want to try a different style of exercise (Lagree-inspired Pilates). It's also ideal if you need help rehabilitating from an injury.
If you're not interested in Pilates or have a limited budget, however, Sweat with Sally probably isn't for you.
4. Warlock Athletics – Best For Crossfit & Sense Of Community
Like most CrossFit gyms, Warlock Athletics is all about inclusion. Alongside intense group workouts that will help lose weight and build muscle quickly, Warlock Athletics is a place where you will meet people, learn a niche training style, and feel a real sense of belonging.
What Are The Gym Benefits?
For effective muscle growth and fat loss, Warlock Athletics is probably the best Arlington has to offer.
Focused on CrossFit, this gym offers fast-paced group classes utilizing weights and bodyweight, providing an intense, yet exciting, challenge for people of all abilities.
With coaches, you'll be doing pull ups, Olympic lifts, gymnastic ring exercises, and HIIT – perfect if you're bored of regular gym routines.
And due to the sense of community here, you'll make friends, feel part of a group, and receive expert guidance from day one.
What Do You Need To Know Before Purchasing A Membership?
There are two main memberships at Warlock Athletics: $225 per month for unlimited CrossFit classes and $175 per month for 3 CrossFit classes per week.
Before signing up, you can have a free consultation with a trainer to discuss goals and programs.
Both memberships can be easily canceled by providing 30 days' written notice before your next billing date.
Are There Any Drawbacks?
It's not cheap here, needless to say. Then again, for the $225 unlimited class membership, you can make sure to get your money's worth!
Who Should Work Out Here?
CrossFit fans and aspiring CrossFitters, as well as anyone who's looking to challenge themselves and be part of a niche fitness community.
Not into CrossFit, group workouts, or consider yourself injury-prone? Then consider other gyms first.
5. Determined Fitness – Best Local Gym With Member Facilities
Determined Fitness is a large old-school gym located in the heart of Arlington.
It's fully equipped with the machines and equipment to satisfy any hardcore gym user, with member facilities and perks that include tanning, hydromassage, and an onsite cafe.
What Are The Gym Benefits?
Determined Fitness has a nice old-school feel that's perfect for gym users who shy away from commercial chains.
Along with plenty of cardio machines (treadmills, ellipticals, stair masters, and bikes), it has four power racks (deadlift stations), elite FTS benches, and plenty of heavy free weights.
As a result, this gym is a great choice for powerlifters and hardcore weightlifters, with long opening hours. And if you like tanning and massages, Determined Fitness offers that too.
An additional benefit is the onsite cafe, offering house-made smoothies and protein shakes.
What Do You Need To Know Before Purchasing A Membership?
Determined Fitness has three monthly membership tiers: Monthly Fitness ($9.99), Monthly Fit Plus ($19.99), and Monthly Gym ($39.99). Each membership has a $19.99 sign up fee and a $39 annual fee.
With Monthly Fitness, you get access to all cardio equipment and dumbbells up to 50lbs.
With Monthly Fit Plus, you get the same as the Monthly Fitness membership with unlimited tanning and hydromassage.
With Monthly Gym, you get the same as Monthly Fitness and Monthly Fit Plus, but with access to the strength training equipment, including power racks, elite FTS benches, vertical leg press, and dumbbells up to 150 lbs.
Are There Any Drawbacks?
Aside from the sign up fee and annual fee, none. Determined Fitness is an awesome old-school gym that's well equipped for all training styles, with long hours and a great choice of house-made smoothies and shakes!
Who Should Work Out Here?
Hardcore gym-goers, including powerlifters and bodybuilders, as well as casual gym users who are interested in tanning and hydromassage facilities.
If you want group fitness classes or a more "modern" gym, however, Determined Fitness might not be for you!
Other Gyms In New York Worth Talking About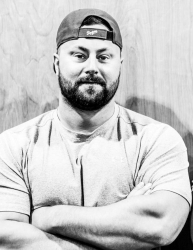 Latest posts by Avi Silverberg
(see all)